This news featured in ActonW3. 
Rupa Huq MP challenged Post Office management to re-establish a post office in Acton during a tour of her old place of work — the Ealing Broadway branch of WHSmith. 
The Ealing Central and Acton MP, who started her career with a Saturday job at the WHSmith store as sixth former in 1988, met staff on July 24, as rules requiring face coverings to be worn came into force.
Huq said: "In recent years Smiths has taken on the main post office of Ealing onto its premises and downsized so I was curious to see what the changes have meant in practice. In addition to that it's been open consistently throughout the crisis so when head office offered me a visit I jumped at the chance".
During the visit to the Broadway centre store, Huq raised Acton residents' concerns to Head of Post Office Operations, Deborah Proud. 
Central Acton has been without a Post Office since the King Street branch closed in October 2018. The Labour MP has been campaigning for its reinstatement ever since.  
Huq said: "The King Street Post Office was a vital asset and its loss in 2018 is still felt by all Acton residents, particularly among the elderly who often feel alienated by the world online. I couldn't then waste the opportunity to push for a new Post Office in Acton on this visit to my old place of work with the head office there."  
Huq also used the opportunity to give thanks to retail and post office employees for all they have done to ensure customers can shop with confidence during the Covid-19 pandemic. 
She told staff of her fond memories of starting working life as a 16-year-old Saturday assistant at the retailer, adding: "I've since swapped the busy weekend tills for the hectic green benches of Parliament, but the skills I developed here — customer service, the importance of teamwork — have continued to serve me well. 
"This store, as well as the Post Office it includes, has served the community well for many years. So I'm thrilled to see it up and running again, courtesy of the fantastic shop floor staff who have been working so diligently to keep the place Covid-secure. It was great to have a peek behind the scenes at the stockroom and staffroom 22 years later."  
COMMUNITY: Huq with post office staff in WHSmith (Credit: Post Office)
Like other High Street businesses, WHSmith has struggled during lockdown. The company recently reported a 74 per cent drop in High Street revenue in the month of April. 
But Ms Proud, who accompanied Huq on the tour, said it was good to see more customers again as lockdown restrictions eased.   
She commented: "We were delighted to welcome Rupa to our Ealing store and Post Office to meet the team and see how we've implemented our precautionary safety measures to protect both our colleagues and customers. 
We've been incredibly proud of the team in Ealing who have continued to provide the community with access to vital banking and postal facilities throughout the Covid-19 pandemic, and as lockdown restrictions have eased, it's been fantastic to welcome back more customers to the store."
Following the publication of research that suggests closing furlough could lead to 10 per cent unemployment by the end of the year, Dr Huq urged constituents to continue supporting businesses large and small. 
"Things have certainly changed since my day. I used to toil in the basement floor "sounds" section fetching vinyl records from out back to put in dummy covers at the till at the point of sale but I'm glad to see in an era where so many sales have moved to online transactions that WHSmith is still there."  
The Post Office's Laura Tarling did reveal that negotiations which were underway with two retailers for the co-location of Acton Post Office within existing retailers locally in the run-up to lockdown were due to re-commence but was tight-lipped about exactly who or timescales for the moment. Hopefully more good news to follow.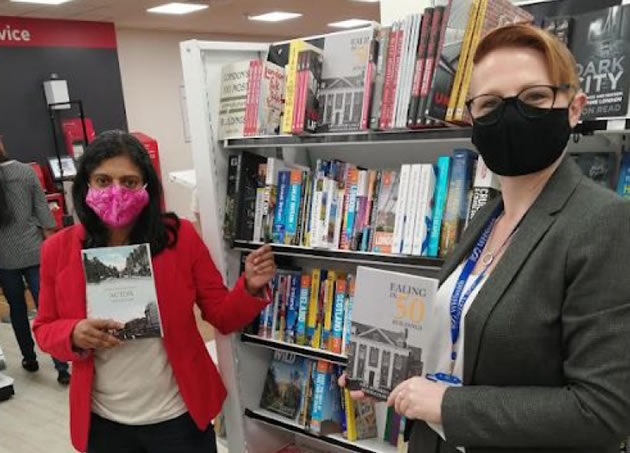 DELIGHTED: Head of Post Office Operations Deborah Proud (R) with Dr Huq (L) (Credit: Rupa Huq MP)